Adidas opens a new flagship store in the center of Warsaw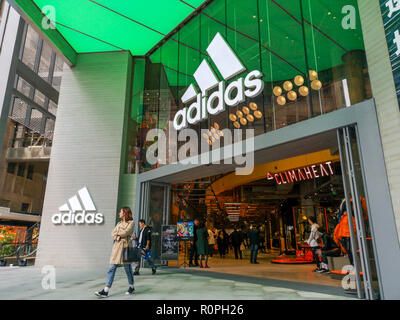 Adidas opens new flagship store in downtown Warsaw
The flagship adidas store in Central and Eastern Europe will be located on several floors of the Sawa building. The largest adidas store and the most environmentally friendly adidas space in this part of Europe will be built in the center of the capital.
The concept involves reaching for sustainability solutions, personalizing the shopping experience while drawing on the brand's sporting heritage. All this in the heart of changes taking place in the centre of Warsaw.
Department stores are evolving
The new adidas store will occupy space in the Sawa building, with convenient access for clients from Marszałkowska Street and Pasaż Wiecha, in close proximity to public transport stops and the metro station. The store will offer a wide range of adidas products, including those previously unavailable in open stores. adidas representatives and the store's designers also plan to use modern digital solutions which will provide customers with personalized contact with the brand and its products while shopping.
– Along with the changes in the close vicinity of Wars Sawa Junior Department Stores, our buildings are also evolving, adapting the offer to the new needs of customers and the metropolitan lifestyle. We are proud that the adidas brand has decided to locate one of its most modern flagship stores in Central and Eastern Europe here. This is the proof of the exceptional power of Wars Sawa Junior Department Store and the potential of the whole Warsaw city centre – says Scott Dwyer, Group Managing Director – Retail at Atrium European Real Estate, the owner of Wars Sawa Junior Department Store.
In the nearest future the premises rented by adidas will be arranged. This unique and the biggest brand outlet in the region will welcome its first customers at the turn of summer and autumn 2022. The entire lease agreement covers almost 2,400 square meters of space on three floors.