Store-in-store Decathlon tests new concept at Carrefour hypermarket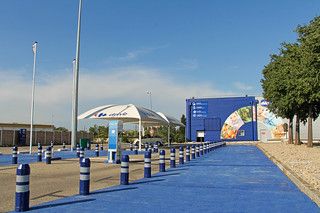 Store-in-store: Decathlon tests new concept at Carrefour hypermarket
Decathlon tests new solutions. A Decathlon Basic brand store will open in the Carrefour hypermarket in Pabianice. This is the first example in Poland of retail and sports chain cooperation in store-in-store format, which will allow to provide access to Decathlon offer in smaller towns. Decathlon test store customers will find more than 2,000 sporting goods from the most popular sports.
The first store Decathlon Basic will occupy a space of 180 square metres at the Carrefour hypermarket in Pabianice at ul. Poplawska. Customers visiting the special store-in-store zone will find more than 2,000 items for one of six sports: fitness, winter sports, hiking, swimming, soccer and running. In the spring, the offer will be extended by a selection of bicycles, roller skates and scooters.
– The business partnership with the Carrefour brand is a response to the changing consumer trends – explains Paweł Krawczyk, expansion and development leader at Decathlon Poland. – Our cooperation will allow customers to save time, because in one place they will find both food products and sports equipment offer of very good quality. At the moment the project is a test, but we do not exclude further development of this concept – adds Krawczyk.
The Decathlon Basic store will be staffed by brand experts who will provide professional advice for those wishing to start or continue their adventure with sport. Customers will pay for selected sports products at classic or self-service Carrefour hypermarket checkout. The receipt received will be recognized in all Decathlon stores. All sports goods can be returned within 90 days of purchase.
During the test period of the Decathlon Basic format in Pabianice, representatives of both brands will observe customer interest in the store-in-store solution. Depending on the popularity of the offer among Pabianice customers, Carrefour and Decathlon chains will consider extending the format to include other Carrefour-owned stores.